Graphic jewels by Paqhuis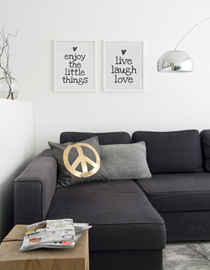 Have you already seen the postcards and posters of Paqhuis? They make graphic jewels with great love. Paqhuis is an initiative by Karlijn de Jong and Femke Brooks. The duo started a webshop to sell their creative products.
I love all of their products, but postcard – Enjoy the little things – is my favourite. Keep those lovely cards for yourself or send them to your friends or family. Another idea: use them as pieces of art on your wall! Or put them in a postcard stand like I did. The 3 postcards above are also available in poster format (40×50 cm).
Paqhuis is a place where you"II always find the perfect gift. Take a look in their webshop www.paqhuis.nl.
Images by: Paqhuis