DIY wardrobe Hello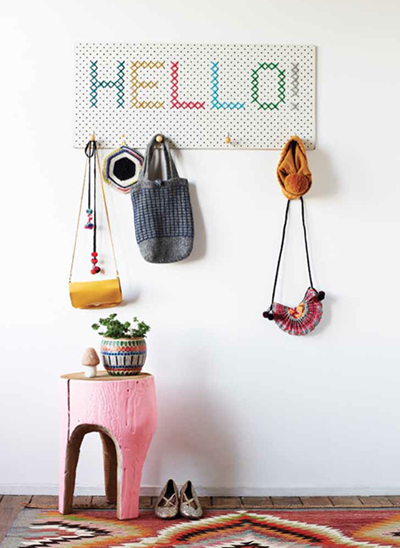 If you're looking for a new wardrobe, then this DIY wardrobe idea might inspire you. I found this idea on the website of Beci Orpin. She has the most clever ideas! She was born in Melbourne and for the first three years of her life she lived out of the back of a landcrusier travelling around Australia with her hippie parents. Now she has a website, blog, shop and she's in Frankie Magazine issue 50.
What a great DIY wardrobe idea! Plus it's so simple and easy to make. What you need is just a hole board (in Dutch called 'gaatjes board') and some wool in happy colours to embroider. As finishing touch fill the wardrobe with some nice hooks.
Frankie Magazine
Ever heard of Frankie Magazine? It's about fashion, sweet art, interesting reads, real people and pretty photography. With the support and encouragement of youth lifestyle publishing house Morrison Media, the dream of Louise Bannister and Lara Burke became a reality. They started their own magazine. Now a few years later they are a wellknown name in magazine land and have also published a number of books. Especially for the 50th issue of Frankie Magazine, Beci Orpin made an illustration of her desk. You can find it on her blog or buy Frankie Magazine here.
Image by: Beci Orpin