My biggest inspiration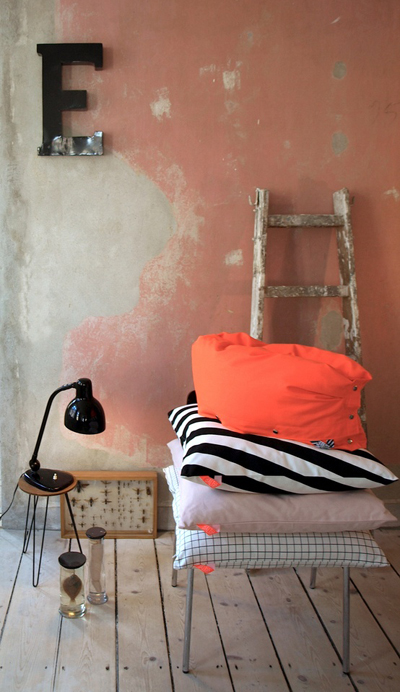 Pinterest is one of my biggest inspirations. You can find me here almost every day. On Pinterest I keep discovering new blogs and shops. It's so nice and addictive to scroll and browse through all of those images. My pinboards are getting bigger and bigger.
BALlab
You probably thought that the image above is also from pinterest. And you're right! I found it on a board of Magasin B. I like this combination of colours so much! BALlab – Breiner, Anne Louise laboratory – is a new design company that will experiment and work with distinctive designs, characterized by bright colours, exquisite materials and an expression that tells a new story. I love their products and styling. Below you see some of their cushions. The one in black/white is my favourite.
Pinterest – How does it work?
Don't you know Pinterest? Don't worry! It's very simple. The first thing you have to do is create an account. It may take a few days before your request will be accepted. But then you can start creating boards and let's get (re)pinning! Don't forget to install the 'Pint It' button in your browser.
Download the app
Do you have a smartphone or tablet? Then download the Pinterest app. It's free!
You can find me on Pinterest.com/marloes_schut.

Image by: BALlab.dk